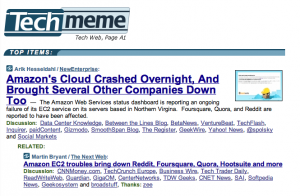 Oh No!  HootSuite is down!  How will I get the word out about my newest blog post?!
Before you click on the link below to read about what's happened today, I just want to tell you that this is a real-life example of "Cloud Computing".  As I've mentioned in earlier posts, "cloud" has come to mean computer services, servers, disk space or just plain processing power that lives "out there" on the Internet.  Amazon is one of the better known providers of such services.  It gives companies a way to obtain technology quickly and easily for a project, program or service without having to invest a whole bunch of capital in equipment and manpower to keep things running.
Sometimes, though, Stuff Happens.  And when your cloud provider crashes, there's not a heck of a lot you can do about it.  That's something to keep in mind if you are thinking of going the cloud route for your technology.  Great for a start-up, for testing a concept or for scientific experiments.  But there's always a risk for any benefit — you can quantify what it will cost you, but it's harder to quantify the unknown.
As I discovered today, you can provide a service for your customers using the cloud, and your customers may never know where the service is really located.  Just doesn't matter.  That is, until it crashes…
HootSuite blog – Social Media Dashboard » Trouble in the Tubes – A few notes on Today's Outage.